Fridge Magnets and Vehicle Signage

Fridge magnets have proved incredibly popular over the years and continue to do so due to their practical usage. We can assist in designing a fridge magnet suitable for the promotion of your business, product or event. This can be done in a variety of ways through the use of bold colours or producing a shape that makes it distinctive from the rest.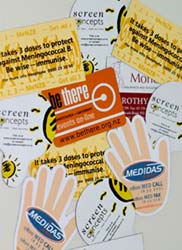 Magnetic sheeting is also suitable for other applications such as vehicle signage and can be printed in a variety of different sizes and shapes depending on your requirements.
For shorter runs or magnets requiring photographic images we would suggest using our digitally printed method which avoids also any screen set up cost. We also have the ability to die cut the magnet as we go to give a unique finish as well. For more information on this digital process please click here.
For more information on any of the magnetic products we have available please contact us at info@screenconcepts.co.nz.