Reflective & Hi-Vis Products
With the increased emphasis on safety for many companies we have developed a range of hi-vis and reflective products suitable for going onto many types of different garments.
As a result, we have also found that due to the effectiveness of our reflective products many clothing designers are very interested in using some of these products as well as a way of creating a unique fashion look.
We have worked very closely with 3M New Zealand in trialing and promoting several of their products that we believe give a definite point of difference to any garment or textile product required.
5700 (3M product) is a new reflective product on the market that enables us to reproduce smaller or more detailed logos that can't normally be done with existing products.
View or Download Product Information (
73Kb )
8711 (3M product) is another reflective product suitable for going onto most types of fabric and can be used in it's normal stripe form or alternatively be plotter cut to give a large type effect.
View or Download Product Information
(
29Kb )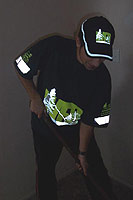 Both of these products are heat applied so therefore the normal costly process of sewing reflective panels onto garments is avoided. For tips on how to design for reflective imaging download the following PDF document.
View or Download Product Information (

38Kb )