Temporary Tattoos
Temporary tattoos are designed as a fantastic way of promoting your brand, event or business.
Whether it be 100 units for the footy team or 100,000 units for a product launch, we can print any volume based on your requirements.
We have experienced a tremendous amount of interest in this temporary branding solution and as a result have increased the range of options we can provide with this product. Included in this range is our new 'glow in the dark' option, perfect for a night time event where something a bit different is required from a promotional point of view.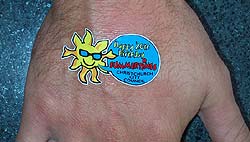 Temporary Tattoos are simply applied by wetting the stock and sticking it to a suitable area of the body.
It can stay in place anywhere from a couple of hours to several days depending on how well it is treated and is removed by a bit of water and some elbow grease.